From checking people's temperature when entering a building, to artificial intelligence that can detect coughs and sneezes: smart devices and the Internet of Things (IIoT) will be key to enabling us all back to the workplace.
The last year has seen most of us forced to work from home because of the global pandemic. Now, as lockdown restrictions begin to ease, companies will be looking at how to safely return staff to offices and factories.
Many employees may be reluctant to go back to how things were pre-Covid. Desk sharing and working a full week inside an office may become a thing of the past, with many companies looking to make flexible working a permanent policy. Staff will expect there to be increased hygiene measures in the workplace, and a focus on wellbeing and safety placed at the top of the agenda.
Covid has no doubt irrevocably changed the world of work. But how can companies meet these new expectations? Here, we look at how smart devices and IIOT could help with the transition back to the workplace.
Ventilation
The message has been clear this last year – inside areas which are better ventilated will help prevent the spread of Covid, and potentially other nasty viruses such as colds and flu.
Regularly refreshing indoor air in offices and public spaces dilutes polluted and potentially contaminated indoor air. The transmission of Covid is airborne, happening when tiny contaminated airborne particles remain in the air, sometimes for more than 20 minutes, particularly in well-insulated, airtight buildings.
Opening windows can help, but workplaces really need constant ventilation to keep staff safe. This is now a requirement for all new or renovated buildings.
Smart ventilation systems will continuously monitor the indoor air quality including its moisture, CO2, and odour, using this to adapt the ventilation accordingly. The technology will adapt ventilation for each room in a building, which guarantees an energy-efficient system as well as the possibility of isolating someone who develops symptoms in a single room to prevent the spread of the virus.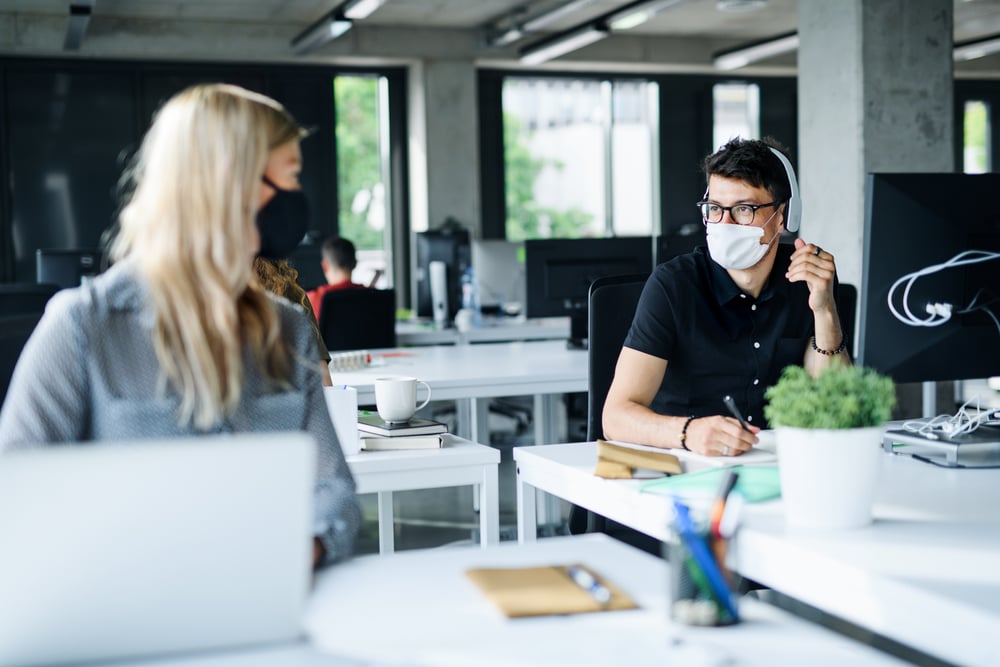 Symptom checks
Last year, many leisure venues and retail outlets made it mandatory for customers to have their temperature checked before entering. This may be expected when workers begin to return to the office.
Checking temperature gives staff the confidence to know that their colleagues aren't displaying one of the three main Covid symptoms, offering reassurance that they are less likely to pass it on while inside and office.
Temperature sensors have already been enabling healthcare workers to efficiently screen individuals with a high temperature. There are a range of analogue and mixed-signal semiconductors and advanced algorithms, as well as IoT solutions for wireless sensing.
There is emerging technology which can detect other Covid symptoms such as coughs. Researchers at the University of Massachusetts Amherst last year developed a portable artificial intelligence (AI) device that can listen for coughs and sneezes and count the number of people present in public places to make predictions about the level of flu-like illnesses.
Other new technology could identify those with Covid who are asymptomatic. In a paper published last year in the IEEE Journal of Engineering in Medicine and Biology, the team reported on an AI model that can distinguish asymptomatic people from healthy individuals through forced cough recordings, which people voluntarily submitted through web browsers, mobile phones, or laptops.
The research found that those who are asymptomatic may cough differently to those who are healthy. While the differences are not decipherable to humans, they can be picked up by AI. The technology was tested on tens of thousands of cough samples, and accurately identified 98.5 percent of coughs from people who tested positive for Covid.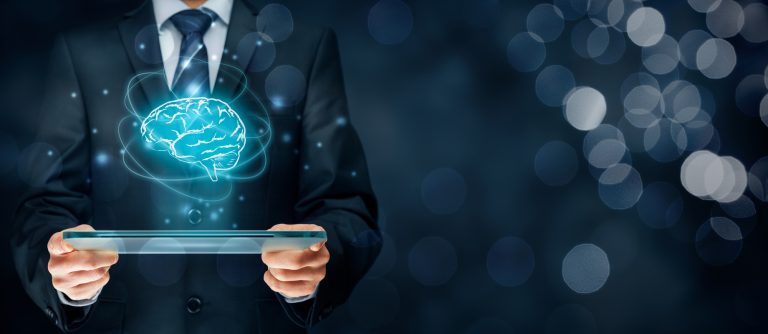 Social distancing
It is likely that social distancing will be required both now and in the future when staff return to the office, particularly if there is another spike of Covid during the winter months.
Making sure your workplace is equipped now to deal with this will better prepare you to implement social distancing requirements swiftly if this becomes necessary.
There is various smart technology that can help achieve this. Most will work around the idea of creating a capacity for an office along with a layout of workspace to manage.
One example is the iotspot, which works by digitising the office space. Desks can be blocked via an app, which will update the office capacity and workspace layout in real-time. Staff can then book an available desk, offering them peace of mind that for the day they are in the office they will have their own desk which is a safe distance from others.
CCTV monitoring is another option, although this could feel like an intrusion. Installing cameras in an office might give the impression that bosses don't trust staff to follow guidelines, and that they will be checking up on their every move. This, in turn, could cause feelings of anxiety and resentment from employees.
Sensors seem to be the better solution. They can ensure that occupancy rates remain below a set percentage or that employees remain two metres apart.
An example of this already being used successfully is supermarket Aldi which last year implemented an automated system to monitor the number of customers inside its stores. The technology monitors capacity and can be changed depending on the size of the supermarket. The information is then used to control an automatic traffic light system at the entrance to signal to customers when they can enter. The technology is far more accurate than relying on staff to count customers into the store.
There are numerous smart devices and technology that could assist with making the workplace safer when staff begin to return. However, companies will need to first decide their goals when it comes to health and safety and appoint someone to enforce them. A thorough communication and engagement plan will also need to be in place to inform staff of any changes.
---
Unlock the Secrets to a Profitable OEM Strategy!
Dive into our FREE PDF guide and discover strategies that can transform your OEM purchasing. From strategic foresight to risk management, get insights that set you apart.