In this "IIoT Applications" series of posts, we'll consider the role of IIoT applications within the industrial environment. These include insights from some projects our engineers are actively working on and insights from the growth of awareness in IoT / IIoT (Industrial Internet of Things) principles and their implementation. This post looks at the use of IIoT for Predictive Maintenance Systems.
Predictive Maintenance Systems
The function of predictive maintenance systems is reasonably self-defining! They monitor the status of operational equipment efficiencies and identify changes that might require intervention. Often this is to avoid unexpected system failure and their associated costs. One example might be a vibration sensor. When the vibration levels breach the threshold, the system identifies that something is at risk of failing. It triggers an inspection work order.
The form such a system takes is as varied as there are industrial environments.
Predictive Maintenance Systems have matured significantly with the advancement of IIoT technologies. It used to be that the process was managed offline; manual diagnostics were run in order to evaluate the condition of equipment. But with the ability to connect devices via local Wide Area Networks to internet-based systems, always on / real-time Predictive Maintenance Systems are increasing in use.
BitBox is proud of its reputation for delivering electronics products. It deploys its electronics design and software engineering expertise to fulfil often complex demands. Design engineers develop a variety of IIoT systems for use in Smart Buildings and industrial environments, including Predictive Maintenance Systems.
Our experience includes the development of an array of sensors, similar to those illustrated at the top, to monitor equipment used in extreme environmental conditions. These sensors transmit data, initially via cable, then Over The Air (using a gateway, left) to users that access the information via web-browsers. The control system actively monitors the health of the equipment and environment and creates responses in the event of a threshold breach. The system determines the nature of the issue and responds appropriately. This might result in triggering an automated work order to reduce the strain on the operational equipment. Or, perhaps, alert an engineer to inspect a location-specific situation.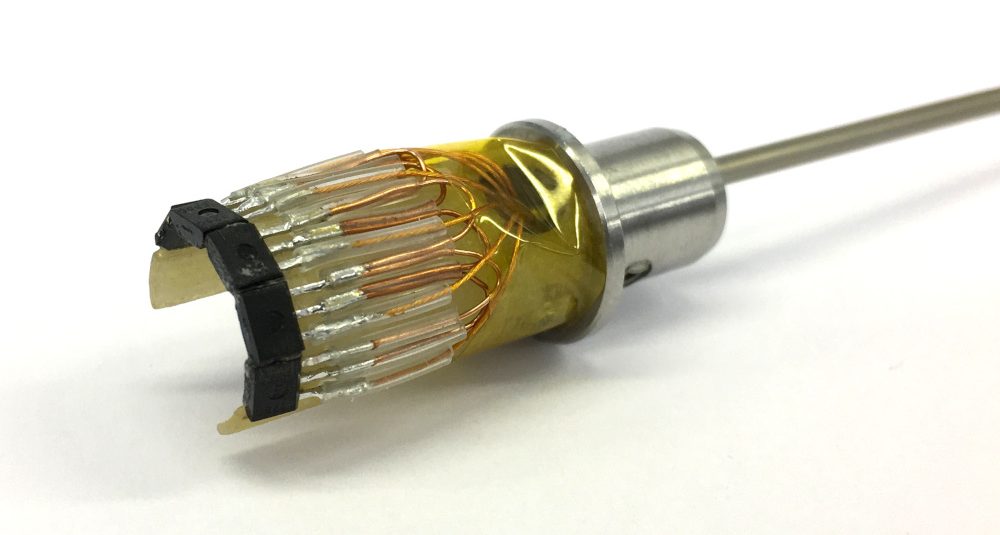 Business Benefits
For businesses looking to benefit from the use of IIoT technologies, a predictive maintenance system offers a significant opportunity. Whether for use in monitoring the power consumption of a data centre, the vibration levels of wind turbines or even the temperature of a sensitive workspace, protecting the integrity of critical business systems (and people!), a comprehensive predictive maintenance system is a valuable means to reduce business costs.
Savings come in the form of reduced downtime; the consequences of unexpected failures is great impacting workers, customers and down the line systems and, of course, productivity. By monitoring the real-time status of equipment, control systems can programmaticly predict failure or maintenance requirements. Proactive management reduces downtime and avoids unexpected failures.
The Potential Future
The pace of change is phenomenal. The impact and scope of the Industrial Internet of Things in predictive management is developing as components and power sources become smaller and last longer, and applied internet technologies merge to bring greater functionality. What does this mean for predictive maintenance? Right now we know of such systems in data centres, buildings and public utility companies where 'always on' systems provide more effective monitoring. It will not be too long before the communications range of even more remote sensors allow for devices to provide 'always on' system coverage in some of the most harsh or inaccessible environments. As these extreme implementations are more widely adopted, IIoT applications within corporate and industrial environments will expand in capability and in use.
The application of IIoT technologies in Predictive Maintenance Systems is becoming a significant value-add to operational equipment effectiveness.
BitBox's experience in designing and manufacturing Predictive Maintenance Systems is extensive. If you have a concept, prototype or a legacy system that helps create Smart Buildings or protects critical business equipment, talk with our team to explore how it can become a reality.
---
Unlock the Secrets to a Profitable OEM Strategy!
Dive into our FREE PDF guide and discover strategies that can transform your OEM purchasing. From strategic foresight to risk management, get insights that set you apart.